Westland Cask Launch Party – Zoom
Title for The Whisky:
The Whisky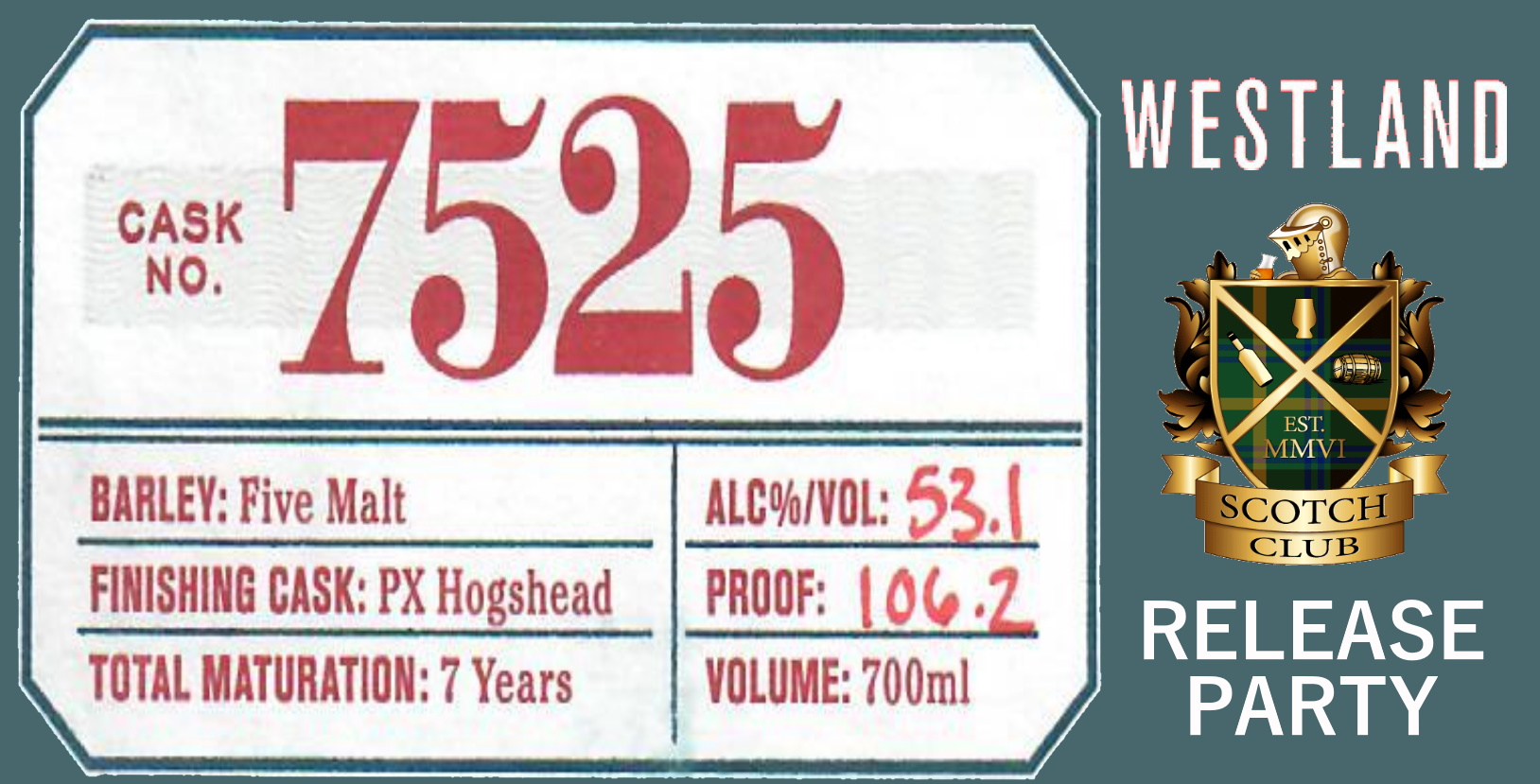 5:30 pm PACIFIC – 8:30 pm EASTERN
Scotch Club is having a RELEASE PARTY to celebrate the arrival of a cask that we helped select. When Mission Trails Wine & Spirits needed help selecting the perfect Westland cask selection for their shop they went straight to the experts… us. A small group of San Diego clubbers sipped many different cask samples with the understanding that if none were worthy, none would be selected. This one was worthy.
You may not be in San Diego for the launch party (nor will I), but the rest of us will be partying online with samples we will ship to you. We'll be zooming into the party and joining in for a Westland Cask release simuldram at 6:30 pacific. And for more fun, we will be offering samples of two other Scotch Club sponsored releases, a BenRiach and Charbay.
---
Here are Andy Smith's notes on the Westland Release:
Cask #7525
Five Malt Barley
53.1%
Finished in PX Hogshead
Age: 7yrs
Nose: Sangria and dried orange peels
Palate: Chocolate-covered grapes. Thick and chewy. Definitely a sweet but with a saltier component that fights it and wins out at the end of a long finish. Full flavored and fun.
---
Samples: (note the 2oz samples are LARGER than our normal club samples)
2oz – Westland Scotch Club Cask #7525 – $10
2oz – BenRiach Scotch Club Cask #3059 – Smokey Style – 10yr – 59.9% – $10
1oz – Charbay Scotch Club Mach 19 Czech Pilser – 6yr – 75.2% – $10
Shipping (up to 5 samples) – $10
MISSION TRAILS WINE & SPIRITS WILL BE OFFERING A DISCOUNT ON THE WESTLAND AND BENRIACH ON THE 26TH. THEY SHIP NEARLY EVERYWHERE NATIONWIDE.