-From Jack Smith, President, MASC
It's all about you.  In July 2011, I moved from Los Angeles to Atlanta where the only person that I knew was my little brother.  It was great to get reacquainted with him after being separated by 3,000 miles for almost 30 years.  But he was the only person that I knew in Georgia where I was surrounded by a bunch of bourbon drinkers who thought that single malt Scotch was okay but seldom drank it.  In August, I remember telling my brother that I was going to start a Scotch club.  His response was to ask "Why do you want to do that?  It sounds like a lot of work."
It is the answer to that question really gets to the nub of it. I really missed Andy and the LASC regulars because single malt drinking and enjoyment is such a social phenomenon.  Yes, it offers an amazing range of flavors and is delicious.  But a lot and probably most of the fun is discussing the whisky with like-minded people in a thoroughly comfortable environment. One of my favorite LASC friends is an attorney named Jon. He is as far from my positions in things political as east is from west.  But I love the guy and listen to what he says. We will never come to agreement about that stuff, but we both are big single malt fans and that is more than enough to be good friends.  In fact, that is a very cool thing.  Simon Brookings motto now comes to mind: "World peace through one dram at a time."
On September 27, 2011, I conducted the first MASC tasting with 17 (seventeen!) curious but enthusiastic partakers.  Some of the local powers-that-be took notice that MASC was off to a good start and encouraged our growth.  Republic National Distributing Company (RNDC) invited me to study for the new certified specialist of spirits credential with their management group; that helped me considerably.  I took my first trip to Scotland later that year (2011) and was shown around by the good folks at Gordon & MacPhail and that helped me significantly. How? I saw a building that my grandmother showed me a photo of from her photo album of Edinburgh (from which she emigrated at age 19). Did I mention that she passed away before my third birthday? It turns out that she passed on some things Scottish to me (her first grandchild) in my early days.
Initially, MASC's (admittedly, lame) slogan was "Enjoyment, Education, Embibe" (sic: I needed three E's).  But soon a better one came to me (as it was obvious): "Good whisky is made great when shared among friends." That slogan sums my whisky experience quite succinctly.  I suppose that it has been my experience that good friends become great friends when we share good whisky.
This is already too long, but I have to add one final topic.  I am embarrassed by how little I know about single malt whisky, but I do know a few things.  Single malt is amazing stuff!  From the mildest Scapa or Glen Grant to the boldest Ardbeg or Octomore, it has a wide range of aromas and flavors. No other whisky or spirit comes close. I also love arranging the order in which the six single malts of a whisky flight are to be tasted.  When I do that properly, it's magic as synergies are created whereby the whole is greater than the sum of its parts.  You see, I am just amazed by this simple whisky that my forefathers brought forth.  Come and see.
Our 9/27/11 (Tuesday) Whisky Flight:
Famous Grouse Blended Scotch (we feature Single Malts; we're trying this Blend to see the difference)
Famous Grouse 12-year Blended Malt Whisky (all malt whisky… no grain whisky)
Balvenie 14-year Caribbean (Rum) Cask Single Malt Whisky (rum-finished single malt)
Glenmorangie 12-year Quinta Ruban Single Malt Whisky (port-finished single malt)
Aberlour A'Bunadh Cast Strength Single Malt Whisky (sherry-finished single malt)
Linlithgow Single Cask 21-year Cask Str. Single Malt Duncan Taylor (one of my 10 best all-time malts)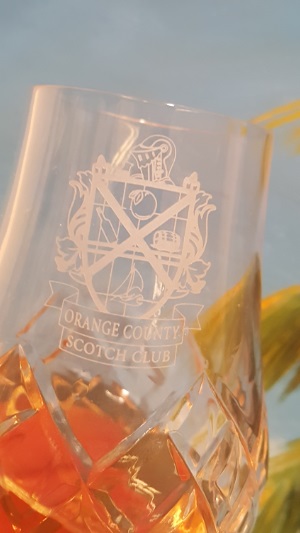 What to expect at a Club event:
• Experienced scotch drinkers.
• Inexperienced scotch drinkers. Every event has a new face.
• A respect for the scotch and the desire to study and appreciate it.
• A lively and enjoyable night. Mix whisky and good friends and this will happen.
• A scotch experience better and far more affordable than a night out drinking at a bar.
• Someone who wants to hear you talk about scotch.
• Someone willing to discuss scotch with you.
• Respected scotch expressions often seen at good whisky shops.
• Many scotch expressions that are new, rare, or obscure.
• At least 1 event per month, at different locations, on different days of the week.
• Non-scotch whiskies, especially from distilleries making scotch-like sprits.
What NOT to expect at Club event:
• A stodgy tasting with a kilted guru and a room full of hushed listeners.
• A Scottish based event. We are a scotch club, not a Scottish club. The kilts and pipes come out on special occasions, like Burns Night.
• A booze-fest. We may have a good time, but we are not a frat party and our members are expected to behave respectfully.
• Bad or boring whisky.
• Events purely for networking. Yes, we are mostly professionals, and friendships often lead to other things. Our primary focus is sharing scotch.
• A formal lesson for beginners. We explain what we are drinking but we won't teach you how to drink it.Feel free to ask questions, however.