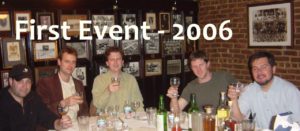 In 2006, two habitual drammers, Andy Smith and Scott Saikley, began the Los Angeles Single Malt Scotch Whisky Club after years of appreciating scotch in tandem.  In the days before social media a basic website was made, and after months of patience a group of 5 finally met at Casey's Irish Pub in Downtown LA.  Soon LA Scotch Club became, and still is, the largest scotch focused club in the country.  It has now expanded to other cities in California and beyond, still dedicated to it's original charter:
• Meet new friends who enjoy scotch
• Share the expense of exploring new scotch
• Teach the less experienced
• Learn from the more experienced
• Drink scotch and have a great time doing it
LASC is also the host of the nation's largest festival of peated whisky, Peatin' Meetin', a five hour event of bbq, music, and the smokiest whiskies on Earth.
Each club operates not for profit but for the common goal of sharing great whisky.  Events (posted publicly) are available to men and WOMEN, age 21 and older.  Lifetime Club Memberships are also available for those who want to be more involved.