Sip-tember
Title for The Whisky:
The Whisky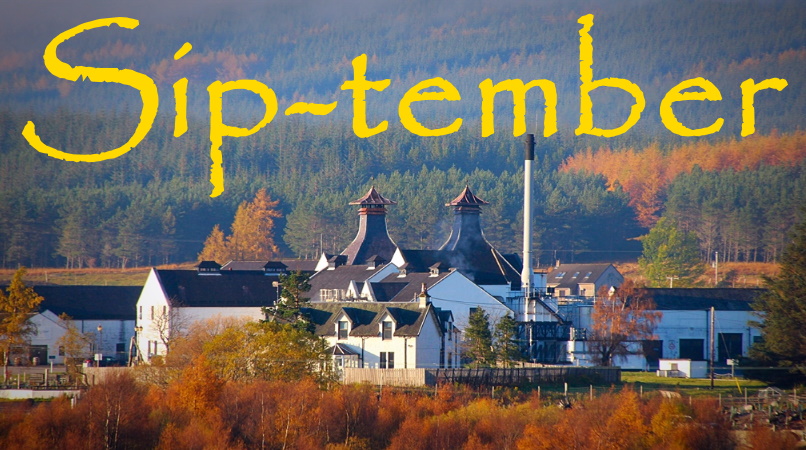 SIPPING IN SEPTEMBER: Let's move around a bit with a Lowland, 3 Highland, 2 Islay (one is unpeated), and a Japanese single malt. Just outside the Glasgow city limits, we will try Auchentoshan 12, a rare triple-distilled Scotland malt. Situated in the Howe of Mearns, one of the finest barley areas, Fettercairn 12 is awesome after spending its last 2 years in PX sherry casks. Near the Port Askaig ferry terminal, the lovely Bunnahabhain 8 was matured in a refilled sherry cask.
Miyagikyo Distillery is 240-miles north of Tokyo. We will taste is NAS single malt includes unpeated and lightly peat whiskies age in bourbon, sherry, and Japanese oak casks. In the northern Highlands 30 miles northwest of Inverness, Glen Ord is a lovely large distillery. Let's try its 1997 vintage single cask (bourbon). From Aultmore Distillery via The Single Malt Whisky Society (Leith, SCO), another single cask but bottled at source (cask strength), 67.5% ABV (135°). Our final dram is Laphroaig, Four Oak refers to its maturation which include whisky aged in bourbon, sherry, refill, and virgin oak casks.
The only lacking is the pleasure of your good company. So, do come along and bring a friend as "Good whisky is made great when shared among friends."
WHISKY MENU: 1 Lowland, 3 Highland, 2 Islay, 1 Japanese
1. AUCHENTOSHAN Single Malt / 12-Year / NAS / 40% ABV / OB / Dist Owner:
Beam Suntory UK Ltd. (Suntory Holdings Ltd.) / Lowland (Central)
2. FETTERCAIRN Single Malt / 12-Year / 'Pedro Ximénez Sherry Cask Edition'
(Duty-Free Only) / 40% ABV / OB / Dist Owner: Whyte & Mackay Ltd.
(Emperador Distillers Inc.) / Highland (Eastern)
3. BUNNAHABHAIN Single Malt / 8-Year / 43% ABV / IB: Gordon & MacPhail
(MacPhail Collection range) / Dist Owner: Burn Stewart Distillers (Distell Group
Ltd.) / Islay (North Shore)
4. MIYAGIKYO Japanese Single Malt / NAS / 45% ABV / OB / Dist Owner: The
Nikka Whisky Distilling Co. Ltd. (Asahi Breweries, Ltd./Asahi Group Holdings,
Ltd.) / Japan (Sendai)
5. GLEN ORD Single Malt / 1997 Vintage (18-Yr) / 46% ABV / NCF / SC #800002 /
IB: Montogmerie's SC Collection / Brand Owner: Angus Dundee Distillers Plc /
Dist Owner: Diageo Scotland Ltd. (Diageo plc) / Highlands (Northern)
6. AULTMORE Single Malt / 2011 Vintage (7-Yr) / CS 67.5% ABV / NCF / IB: SMWS
(Cask #73.113) / Dist Owner: John Dewar & Sons Ltd. (Bacardí Ltd.) / Speyside
(Eastern) – D: 6/6/11 – B: 2018 – Sherry butt; 2nd fill; 537 btls
7. LAPHROAIG Single Malt / 'Four Oak' (GTR Only) / NAS / 40% ABV / OB / Dist
Owner: Beam Suntory UK Ltd. (Suntory Holdings Ltd.) / Islay (Kildalton)