Resurrection II
Title for The Whisky:
The Whisky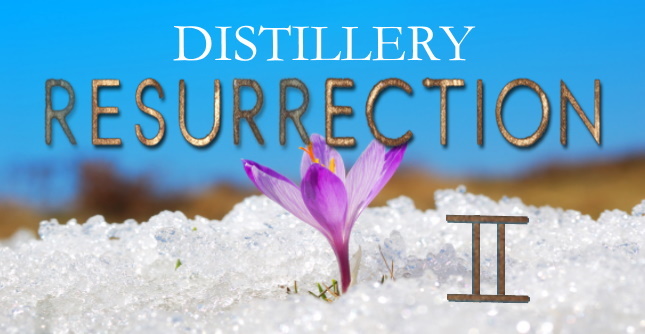 It is our custom to gather in the Fall to remember distilleries that have left this mortal plane. But Spring is a time of rebirth, and so this month we come together to celebrate a few of those distilleries that were once lost, seemingly for good, but that have sprung back to life.
We did a Zoom version of this two years ago. It was largely an excuse to get together (virtually) and crack open a rare Bruichladdich Resurrection Dram. Well, another unicorn has fallen into our lap, so we're doing it again, only this time in person. The star of this show will be Glenglassaugh "The First Cask," one of only 650 bottles drawn from the very first cask filled after the distillery went back on line in 2008, and bottled the second it was old enough to be called Whisky. Is it any good? Hard to say, but we're pretty sure that this will be your only chance, ever, to find out.
Ben Nevis 21yr. Faultline 1995
Braeval 7yr. SMWS 113.24 2011
Glenallachie 11yr. Hepburn's Choice for K&L 2005
Glencadam " The Re-awakening" 13yr.
GlenDronach 11yr. Cask Bottling for K&L 2008
Glenglassaugh "The First Cask"3yr. 2008
Tullibardine 10yr. Sovereign for K&L 2008
Sandwiches, appetizers, etc.
The event will take place outdoors at the home of an OCSC member in Costa Mesa (address to follow). The forecast is dry, but chilly.
-$55-
Venmo (Brett-Perkins-3 – look for the OCSC Coat-of-Arms) or PayPal ([email protected]).
Please use the "Friends and Family" option (when they ask "is this payment for goods or services?" you say "No"). We no longer accept payments from Meta (Facebook) or Zelle. Designated drivers may eat free, but please include them in your RSVP.
Please note the new, earlier time (not that we won't let you in if you had to be a bit late).