Octomore and More
January 29, 2022 @ 3:00 pm
Title for The Whisky:
The Whisky
6:
Port Charlotte PAC01 2011 (live)
7:
Islay Barley 2012 (live)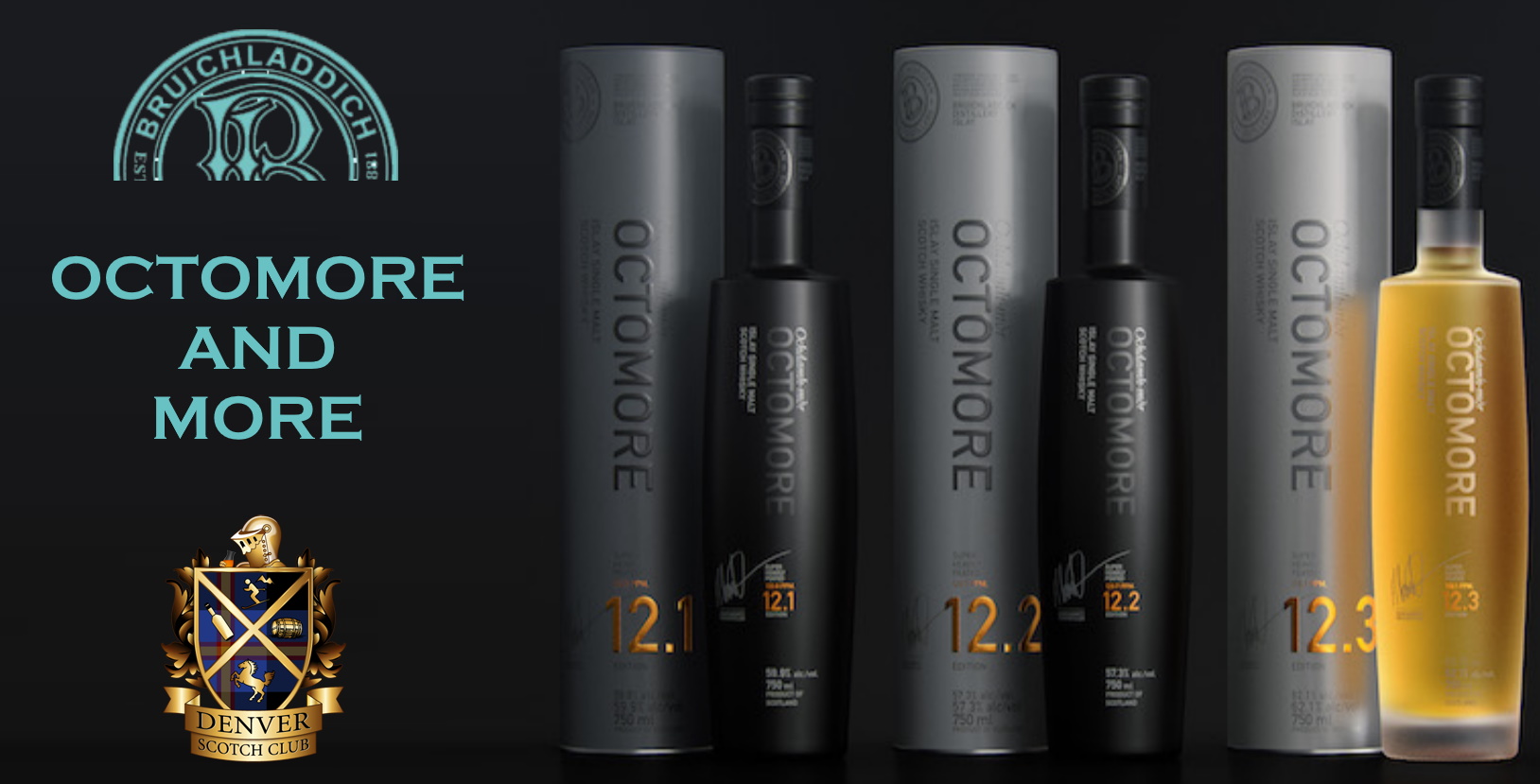 Denver Scotch Club will feature the malts of Rémy Cointreau's Islay distillery, Bruichladdich. More specifically, we'll be trying a lineup of the peatiest whiskies on Earth – the Octomore 12 Series! 12.1, 12.2 and 12.3 elicit notes such as peppery, toffee, sweet, vanilla, dried fruit, dark chocolate, citrus, and of course, the smoke that ties it all together. Join us to determine for yourself which notes your palate matches to each dram, and learn about the famed distillery, Bruichladdich, from Rémy's own Justin Riggs!
We're inching towards normalcy ever so slowly (even with a few steps backwards thanks to the continued pandemic) and respect the wishes of those who prefer to still participate remotely. So, this will be hosted as a hybrid event with (5) core samples.
Octomore 12.1
Octomore 12.2
Octomore 12.3
Classic Laddie
Port Charlotte 10
However, those who join us in person, at the home of DSC President, Steve Grantowitz, will get to enjoy tastes from (3) extra bottles complimentary to the core lineup! Good times, indeed.
Port Charlotte PAC01 2011
Black Art 9
Islay Barley 2012
Register ASAP as this event must be capped at (21) participants to be sure there's enough to go around. (DSC locals get first dibs before out-of-towners.)
In-person address will be sent to registrants the week of the event. Samples will be mailed to Zoomers by Monday of that week at the latest.
Who wants some Octomore and More? Let's get peated!