Murray McDavid with Ed Kohl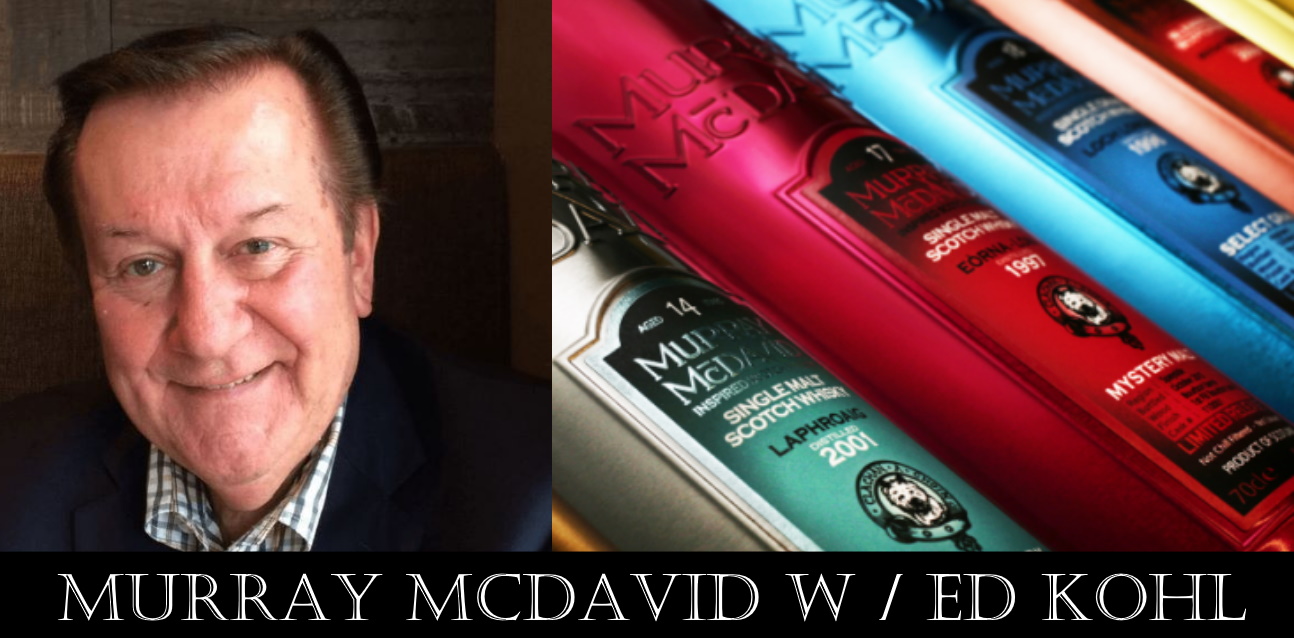 Murray McDavid: A TOP-TIER INDIE BOTTLER. An exciting event with ED KOHL, Master Keeper of the Quaich, and CEO of Keeper's Quest Brands. Ed is the USA importer of the acclaimed MURRAY McDAVID Single Malt collection.
Dailuaine, although rarely seen on the shelves of Georgia package stores, is one of my favorite single malts. I describe it as a friendly (approachable) dram with fruity, citrus flavors. Linkwood, a member of the light Speyside camp, offers a combination of texture and delicacy prized by blenders (JW and White Horse) and much loved by single malt aficionados. Mannochmore (Glenlossie Distillery's site mate) is a light floral whisky that gains delicate fruit notes as it matures. It is also a blending malt and is the key malt in the Haig range as well as a Johnnie Walker component malt.
Glen Elgin is a smooth, mellow, and sweetly honeyed dram which is rated as a top-class blending malt. It is the key malt in the White Horse range and is found in the JW series. Smoky Scot single malt is sourced from the great Caol Ila Distillery, Islay's largest. Despite using the same malted barley (34-38 ppm) as Lagavulin and Port Ellen, Caol Ila produces a well-balance dram with amazing complexities and elegance. Croftengea is a heavily peated malt spirit used as a blending component by Loch Lomond distillery, but also released periodically as a single cask single malt. As the blenders use a bit of heavy-peated malt in their blends, my friends at Loch Lomond use Croftengea in its popular blends: High Commissioner, Scots Earl, and Loch Lomond.
Do join us and bring a friend as "good whisky is made great when enjoyed among friends."
WHISKY MENU: 4 Speyside, 1 Highland, 1 Islay Single Malt
1. DAILUAINE Single Malt / 'Bourbon Finish' / NAS / 44.5% ABV / IB: MMCD
(Aceo Ltd) / Dist Owner: Diageo plc (Dailuaine Dist) / Speyside (Central Spey)
2. LINKWOOD Single Malt / 'Madeira Finish' / NAS / 44.5% ABV / IB: MMCD
(Aceo Ltd) / Dist Owner: Diageo plc (Linkwood Dist) / Speyside (Lossie)
3. MANNOCHMORE Single Malt / 'Port Finish' / NAS / 44.5% ABV / IB: MMCD
(Aceo Ltd) / Dist Owner: Diageo plc (Mannochmore Dist) / Speyside (Lossie)
4. GLEN ELGIN Single Malt / 'Peated Finish' / NAS / 44.5% ABV / IB: MMCD
(Aceo Ltd) / Dist Owner: Diageo plc (Glen Elgin Dist) / Speyside (Lossie)
5. SMOKY SCOT Islay Single Malt / 5-Year / 46% ABV / NCF / IB: MMCD (Aceo
Ltd) / Dist Owner: Diageo plc (Caol Ila Dist) / Islay (North Shore)
6. CROFTENGEA Single Malt / 'Marsala Finish' / NAS / 44.5% ABV / IB: MMCD
(Aceo Ltd) / Dist Owner: Hillhouse Capital Group (Loch Lomond Dist) /
Highland (Southern)