Cigars and Scotch at Maxwell's
Title for The Whisky:
The Whisky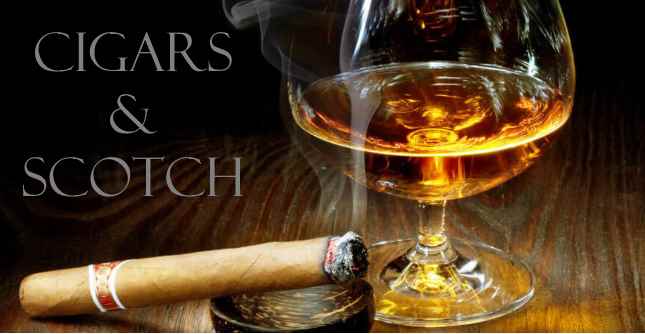 Proprietor Harvey Burkin and Manager Bryan Baxter are opening the doors for an evening of good spirits and tasty cigar pairings. May I suggest that you grab a friend(s) and head over to Maxwell's Cigar Bar? It's conveniently located on Towne Lake Pkwy, just ¼ mile north of Main St. Woodstock.
This will be good fun! Our whisky is breaking out of the lock down, so let's help it escape. The Glenlivet's 12-year-old is a delightful aperitif-style dram. Ainsley Brae is actually Royal Brackla 12-year, a fine rich dram from Total Wine. Hailing from western Speyside, Benromach wood finish is an 8-year beauty finished for 28- months in Sassicaia cask. Billy Walker's GlenAllachie distillery has been winning most of the major awards the past 2 years… you will discover the reason when you taste his 12-year single malt. Ardbeg Drum is a 52% ABV bourbon cask matured and rum cask finished special release by The Ardbeg Committee whereas our final dram is the famed Smokehead High Voltage 58% ABV which is from a non-disclosed Islay distillery.
We hope to see you at Maxwell's Cigar Bar in Woodstock… and do bring a friend as "good whisky is made great when shared among friends." Sláinte!
WHISKY MENU:
1. THE GLENLIVET Single Malt Whisky / 12-Year / 40% ABV / OB / Dist Owner:
Chivas Brothers Ltd. (Pernod-Ricard S.A.) / Speyside (Livet)
2. ROYAL BRACKLA Single Malt / 'Ainsley Brae' / 12-Year / 40% ABV / IB / Dist
Owner: John Dewar & Sons Ltd. (Bacardí Limited) / Bottler: Alexander Murray
& Co. Ltd. / Brand Owner: Total Wine & More / Highland (Northern)
3. BENROMACH Single Malt / 'Sassicaia Wood Finish' (Tuscany) / 2009 Vintage
(8-Yr) / 45% ABV / NCF / OB / Dist Owner: Gordon & MacPhail / Speyside
(Findhorn)
4. GLENALLACHIE Single Malt / 12-Year / 46% ABV / NCF / OB / Dist Owner: The
GlenAllachie Distillers Co. Ltd. (Walker, Stevenson & Savage) / Speyside
(Central)
5. ARDBEG Single Malt / 'Drum' (2019 Special Committee Only Edition) / NAS /
52% ABV / NCF / OB / Dist Owner: LVMH Moët Hennessy Louis Vuitton S.E. /
Islay (South Shore/Kildalton)
6. SMOKEHEAD Islay Single Malt / 'High Voltage' / NAS / CS 58% ABV / IB / Dist
Owner: Unknown / Brand Owner: Ian MacLeod Distillers Ltd