High-end Holiday Scotch Tasting
December 9, 2021 @ 7:00 pm
Title for The Whisky:
The Whisky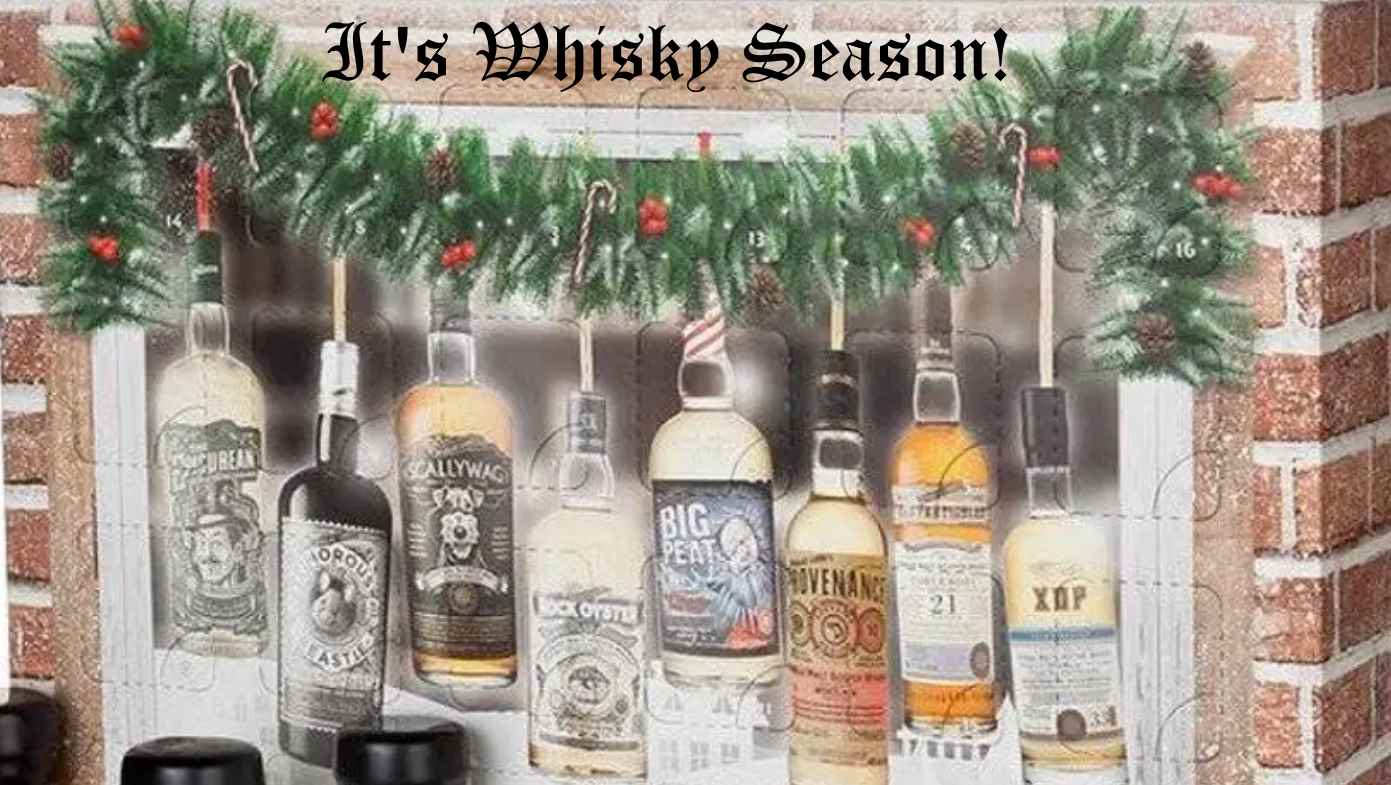 It's Good… But It May Get Even Better!  Our tasting will consist of 6 bottles from Tom Lobonc, Ph.D.'s extensive whisky collection. Our Glen Moray is a 25-year-old malt finished in a port cask. Tomatin, Glentauchers and Dalmore are all cask strength, single cask bottlings at 25-years/50.2%, 21-years/55% and 22- years/58.1%, respectively. (The Glentauchers was finished in a Chateau Petrus Gaia (Bordeaux) French red wine (Merlot 85% and Cabernet Franc 15%) cask.)
The last 2 drams will offer moderate levels of peat: Bruichladdich Moine Mhor
is the second edition in the 3D range denoting 3 different vintages, 3 different
peating levels and 3 different casks. The final dram is Longrow 18-year-old. Released in 2009, our bottle is from the first ever LG-18 release (hence, First Edition). In sum, it's the prefect holiday present for yourself!
Do come hungry as we will have lots of good food. Also, consider inviting your friends as "good whisky is made great when shared among friends."
NOTE:  If we have at least 20 participants, there will be a bonus dram of Auchentoshan Solera, a 48% ABV bottling that was finished in a PX sherry cask as a Duty-Free exclusive.
WHISKY: 2 Speyside, 2 Highland, 1 Campbeltown, 1 Islay (and potentially 1 Lowland)
1. GLEN MORAY Single Malt / 'Portwood Limited Edition' / 1986 Vintage (25-Yr) / 43% ABV / OB / Dist Owner: La Martiniquaise-Bardinet S.A.S. (COFEPP) / Speyside (Lossie)
2. TOMATIN Single Malt / 'Bourbon Cask' / 1988 Vintage (25-Yr) / CS 50.2% ABV / SC #1096 / NCF / OB / Dist Owner: Takara Shuzo Co. (Marubeni Europe PLC/Marubeni Corp.) / Highland (Northern)
3. GLENTAUCHERS Single Malt / 1992 Vintage (21-Yr) / CS 55% ABV / SC #90552 / NCF / IB: Chieftain's Choice (Ian Macleod Distillers Ltd.) / Dist Owner: Chivas Brothers Ltd. (Pernod Ricard S.A.) / Speyside (Central) – (Petrus Gaja Finish)
4. DALMORE Single Malt / 1986 Vintage (22-Yr) / CS 58.1% ABV / SC #3095 / NCF / IB: Mackillop's Choice (Angus Dundee Distillers Plc) / Dist Owner: Whyte & Mackay (Emperador Distillers Inc./Alliance Global Group, Inc.) / Highland (Northern)
5. BRUICHLADDICH Single Malt / 'Moine Mhor – 2nd Edition 3D range' / NAS / 50% ABV / NCF / OB / Dist Owner: Rémy Cointreau (E. Rémy Martin & Co., S.A.) / Islay (West Shore) – 3 different vintages (1989, 1998 & 2001), 3 diff. peating levels & 3 diff. cask types = 3D
6. LONGROW Single Malt / 'Longrow' / 18-Year / 46% ABV / NCF / OB: Springbank Dist / Dist Owner: J. & A. Mitchell & Co., Ltd. (Hedley Wright) / Campbeltown Region – First release of a LG-18 in more than a decade
7. *AUCHENTOSHAN Single Malt / 'Solera' (PX Cask Finish) / NAS / 48% ABV / NCF / OB / Dist Owner: Beam Suntory UK Ltd. ( Suntory Holdings Ltd.) Lowland (Central)