A Round Trip Flight
Title for The Whisky:
The Whisky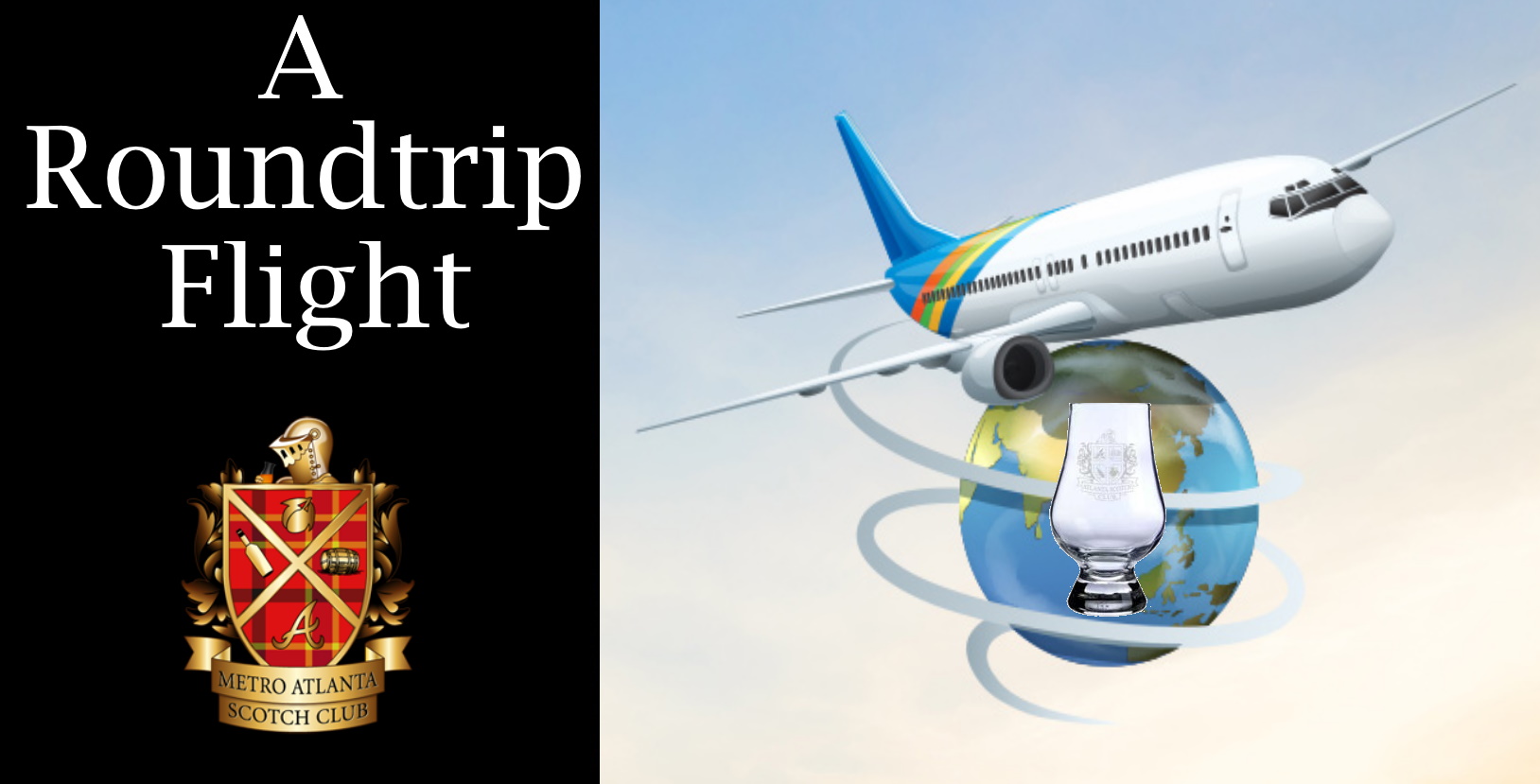 A Round-Trip Flight: Round-trip? As the laddies and lasses at our 6/24/21 tasting rather enjoyed Fettercairn 24 and Laphroaig Cairdeas 2018 Edition drams, let's try Fettercairn 20-year and Laphroaig Cairdeas 2014 Edition.
We will begin with Glen Grant's lovely The Major's Reserve and Tamdhu 10yr, a sherried-single malt.  Following the aforementioned Fettercairn 20, let's taste a cask strength Balmenach 10 from a single-cask selected by Scotch Malt Whisky Society. As the distillery doesn't bottle any single malt (it's all used for blending), let's thank the folks at SMWS for bottling this terrific whisky! Next up is the tasty Caol Ila Moch! This is a whisky that requires the staff to select only those casks that have subtle and well-balanced barley grain and light charred cask wood aromas. Caol Ila, for my money, is the most complex, delicious and interesting Islay dram. You can't go wrong with CI 12, 18 and Moch. Want to contemplate life or the theory of relativity? Do it while sipping Caol Ila.
Please join us and do bring a friend as 'good whisky is made great when shared among friends.'
WHISKY MENU:
1. GLEN GRANT Single Malt / The Major's Reserve / NAS / 40%
ABV / OB / Dist Owner: Gruppo Campari S.A. (Davide CampariMilano S.p.A.) / Speyside (Rothes)
2. TAMDHU Single Malt / 10-Year / 40% ABV / OB / Dist Owner:
Ian Macleod Distillers Ltd. (Peter J. Russell & Co.) / Speyside
(Central)
3. FETTERCAIRN Single Malt / 1997 Vintage (20-Yr) / 43% ABV /
IB: Signatory Vintage Scotch Whisky Co. Ltd. (Andrew
Symington) / Whyte & Mackay Ltd. (Emperador Distillers Inc.) /
Highland (Eastern)
4. BALMENACH Single Malt / 2008 Vintage (10-Yr) / CS 57.4%
ABV / NCF / IB: Scotch Malt Whisky Society of America (Bottle
#48.106) / Dist Owner: Inver House Distillers Ltd. (International
Beverage Holdings Ltd./Thai Beverage PLC) / Speyside (Livet)
5. CAOL ILA Single Malt / 'Moch' / NAS / 43% ABV / OB / Dist
Owner: Diageo Scotland Ltd. (Diageo plc) / Islay (North Shore)
6. LAPHROAIG Single Malt / 'Cairdeas' (2014 Release) / NAS / C