Jump into June – New Releases
Title for The Whisky:
The Whisky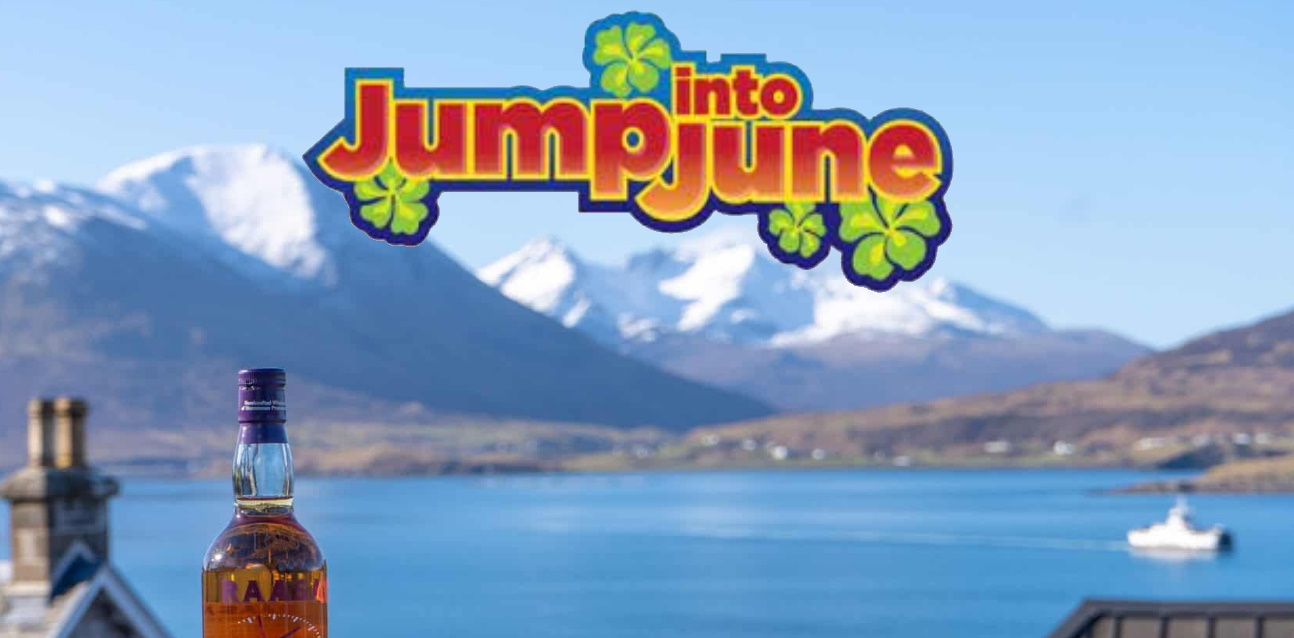 $50 Zelle 6787334757 – Venmo [email protected] – Cash At The Door
JUMP INTO JUNE… NEW TO MARKET SINGLE MALTS:
You are invited to join us for a great evening of whisky fellowship, delicious food, and the enjoyment visiting Phyllis Smith at her lovely home! Isle of
Raasay is a very promising dram from its new distillery near Isle of Skye. Pōkeno SM hails from NZL and is the latest Discovery of Chuck Crouse. Ikikko is the new Japanese SM made on Iki island which has a been growing massive barley crops since the 16th century.
I'm from L.A. but our next dram is from the other L.A. (lower Alabama): John Emerald is a well-made SM made from smoke barley malt. Distiller Jimmy Sharp attended the Springbank Whisky Academy and knows his trade. Jeffrey and I were delighted to partake in MacLeod's Islay Regional Malt: it is terrific and one that Lagavulin fans will covet. And, for a big send-off, Levant Heights is a tasty Lebanese SM made in the foothills of Mount Hermon.
If you like Glenmorangie's Signet (and I certainly do!), you will certainly enjoy Dark Malt made with heavily roasted Lebanese Imperial malted barley at the Riachi Distillery.
Do not miss this one as the only thing missing is the presence of your good company. Do join us and bring a friend as "good whisky is made great when enjoyed among friends."
NOTE: Limited to 20, so sent a RSVP to me if you're paying at the door. I will send you a confirmation for your reservations.
WHISKY
2 Scots, 1 Japanese, 1 Lebanese, 1 New Zealander, 1 American
1. ISLE OF RAASAY Hebridean Single Malt / 'Classic' / NAS / 46.4% ABV / NCF / OB / Dist Owner: R&B Distillers Ltd. (Bill Dobbie & Alasdair Day) / Island (Raasay)
2. PŌKENO New Zealand Single Malt / 'Discovery' / NAS / 43% ABV / OB / Dist
Owner: The Pōkeno Whisky Co. Ltd. (Matt & Céline Johns) / Oceania (New
Zealand/North Island/Pōkeno)
3. IKIKKO Japanese Koji Single Malt / 'Sherry Cask Finish' / 8-Year / 42% ABV / NCF / OB: Ikinokura Distillery / Owner: Consortium of local owners / Japan
(Kyushu/Nagasaki/Iki Island)
4. JOHN EMERALD Alabama Single Malt Whiskey / 'Pecan & Peach Wood Smoked Malted Barley' / NAS / 43% ABV (86-Proof) / OB: John Emerald Dist. Co. / Dist Owner: John & Jimmy Sharp / USA (Opelika, AL)
5. MacLEOD's Single Malt Scotch Whisky / 'Islay – Regional SM Range' / NAS / 43% ABV / IB / Dist Owner: Not Stated (Lagavulin?) / Brand Owner: Ian Macleod and Co. Ltd. (Peter J. Russell & Co.) / Islay
6. LEVANT HEIGHTS Lebanese Single Malt / 'Dark Malt – Espresso Roast' / NAS /43% ABV / NCF / OB: Riachi Winery & Distillery / Dist Owner: The Riachi family /Lebanon (Khenchâra)
$50 Zelle 6787334757 – Venmo [email protected] – Cash At The Door