It's Pouring in Roswell
February 24, 2022 @ 7:00 pm
Title for The Whisky:
The Whisky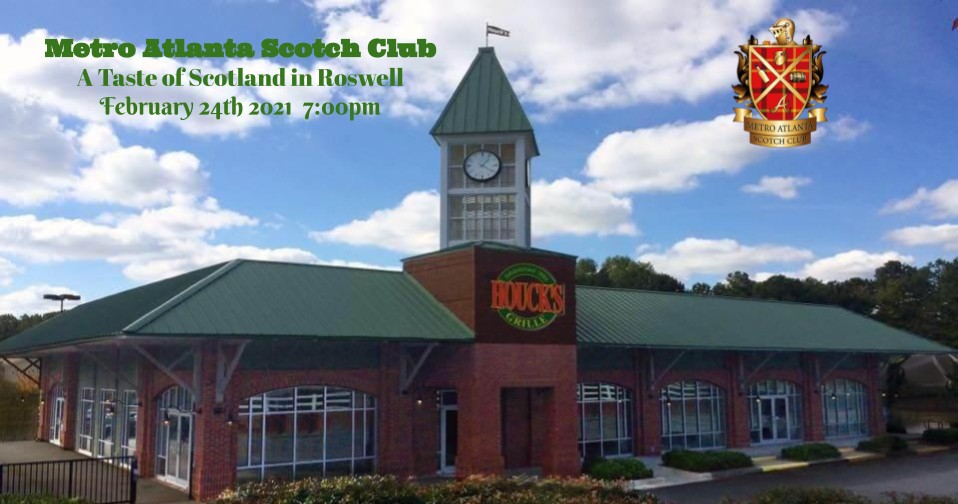 Please let jack@atlantascotchclub.com you will attend
It's Pouring in Roswell – The Good Stuff: We've got the cure for the 24- hour news cycle blues. BenRiach is da bomb! It's a well-balanced Speysider that features first-class casks and the right level of sweetness. From the edge of Scotland's western coast, the new Ardnamurchan is the Rookie of the Year. We love its 'tweener' style and range of aromas and flavors.
The good folks at Adelphi have a winner here! GlenDronach 12 is a sherry-bomb, it is wonderful stuff! This is a sherried-whisky that is oh so consumer friendly. Nobody pours Auchroisk, so we got it and will. It's one of many Diageo distilleries whose output is used for Johnnie Walker and J&B. You'll love it!
Glenglassaugh makes fine older sherried malts, but it also makes a moderately-peated younger dram. So, let's give Torfa a try. Our final dram is Waterford Denmore. Its mashbill is 100% malted barley from a single farm. Every week it changes to a different single farm and there's no shortage as 96 farms have signed up.
We hope that you're able to participate and bring along a friend as "good whisky is made great when shared among friends."
WHISKY MENU:
1. BENRIACH Single Malt / 10-Year (Classic Range) – Vintage 1989-90 / 43% ABV / NCF / OB / Dist Owner: Brown-Forman Scotland Ltd. (Brown-Forman Corp./The Brown Family) / Speyside (Lossie) – 2000- 2002 Bottling purchased from an estate
2. ARDNAMURCHAN Single Malt / 'AD/03.21:02' / NAS / 46.8% ABV / NCF / OB / Dist Owner: Adelphi Distilling Ltd. (K. Falconer & D. Houston) / Highland (Western)
3. GLENDRONACH Single Malt / 'The Original' / 12-Year / 43% ABV / OB / Dist Owner: BenRiach Dist Co. Ltd. (Brown-Forman Corp./The Brown Family) / Highland (Eastern)
4. SINGLETON OF AUCHROISK (THE) Single Malt / 10-Year / 43% ABV / OB: Auchroisk Dist / Dist Owner: Diageo Scotland Ltd. (Diageo plc) / Speyside (Central)
5. GLENGLASSAUGH Single Malt / 'Torfa' (Peated) / NAS / 50% ABV / NCF / Single Cask / OB / Dist Owner: BenRiach Dist. Co. Ltd. (Brown- Forman Scotland Ltd./Brown-Forman Corp.) / Highland (Eastern)
6. WATERFORD Organic Irish Single Malt Whiskey / Dunmore 1.1 (Single Farm Origin Series) / NAS / 50% ABV / NCF / OB / Dist Owner: Renegade Spirits Ltd. (Reynier et al) / IRE (Co. Waterford)