Scotch and Chocolate
December 8, 2020 @ 7:00 pm
Title for The Whisky:
The Whisky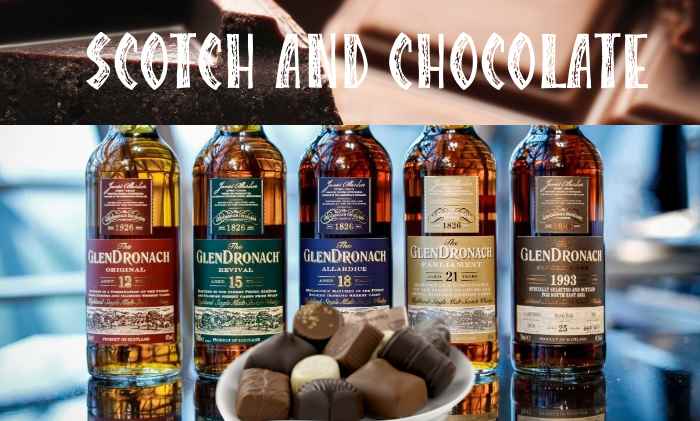 7pm EASTERN
YOU ARE INVITED to join for a virtual GlenDronach tasting featuring 3 top-shelf single malts with gourmet chocolate pairings. This MASC event will be led by Amber Aristy, Brown-Forman/Atlanta. Please purchase your tickets ASAP as we only have room for 24 participants. No worries… there will be events for BenRiach, Glenglassaugh and, again, GlenDronach in October, November and December. If we have a strong demand, perhaps we will be able to handle more participants in the future events. See you on Zoom!
The GlenDronach 12 paired with Gourmet Chocolate
Sweet, round and creamy; Oranges, plums, walnuts, chocolate, sherry, and soft spice oak. Swiss chocolate is chocolate produced in Switzerland. While cacao beans and other ingredients such as sugar can originate from outside Switzerland, the actual production of the chocolate must take place in Switzerland. Switzerland's chocolates have earned an international reputation for high quality with many famous international chocolate brands. Switzerland is particularly renowned for its milk chocolate. In 1875, a Swiss confectioner, Daniel Peter, developed the first solid milk chocolate using condensed milk, which had been invented by Henri Nestlé, who was Peter's neighbor in Vevey. The chocolate will well complement the sweet influence of PX and Oloroso maturation, and floral flavors of GlenDronach 12.
GlenDronach Portwood paired with Gourmet Chocolate
Sweet, round and creamy; Oranges, plums, walnuts, chocolate, sherry, and soft spice oak. The 17th century saw the start of chocolate processed in Switzerland. In the 18th century chocolate was only produced in a few areas, such as the Ticino. In the 19th and early-20th centuries, the following chocolate factories were founded: Cailler (1819), Favarger & Suchard (1826), Kohler (1830), Sprüngli (1836), Maestrani (1836), Klaus (1862), Peter/Nestlé (1867), Lindt (1879), Frey (1887), Tobler/Kraft Foods (1899), Chocolat de Villars (1901), Felchlin (1908), Stella (1928), Camille Bloch (1929), Teuscher & Bernrain (1932), Chocolats Halba/Coop (1933), and Kägi Söhne (1934). In the second half of the 19th century, Swiss chocolate started to spread abroad. Closely linked to this was the invention of milk chocolate by Daniel Peter in Vevey and conching by Rodolphe Lindt. The sweetness/tartiness of the chocolate is the perfect accompaniment to bring out the sweet and nuttiness of the Portwood.
The GlenDronach 18 Allardice paired with Gourmet Chocolate
Richly sherried malt is truly unforgettable with sweet aromatics of fudge and muscovado sugar and a taste of rich, dark and seductive flavors of sweet fruits and allspice. In 2004, 148,270 tons of chocolate were produced in Switzerland. 53% of this was exported (North America 13%). The gross income of the Swiss chocolate industry in 2004 was $1.5 billion ($900m local market; $600m exports). In 1901, Swiss chocolate producers created the Union libre des fabricants suisses de chocolat . In 1916, this was divided into the Chambre Syndicale des Fabricants Suisses de Chocolat and the Convention Chocolatière Suisse. The former "Chambre syndicale" (today, Chocosuisse) protects the interests of Swiss chocolate producers. The "Convention Chocolatière" focused on the quality of the chocolate and sought a uniform price strategy. The rich chocolate flavors really draw out the all spice, sweet fruits and chocolate that the 18 years of aging in Oloroso casks brings to the whisky.
WHISKY MENU:
GLENDRONACH Single Malt / 'The Original' / 12-Year / 43% ABV / OB / Dist Owner: BenRiach Dist Co. Ltd. (Brown-Forman Corp./The Brown Family) / Highland (Eastern)
GLENDRONACH Single Malt / 'Portwood' / 10-Year / 46% ABV / NCF / OB / Dist Owner: BenRiach Dist Co. Ltd. (Brown-Forman Corp./The Brown Family) / Highland (Eastern)
GLENDRONACH Single Malt / 'Allardice' / 18-Year / 46% ABV / NCF / OB / Dist Owner: BenRiach Dist. Co. Ltd. (Brown-Forman Scotland Ltd./Brown-Forman Corp.) / Highland (Eastern)