Glen Scotia w/Iain McAlister – 25yr buy in
Title for The Whisky:
The Whisky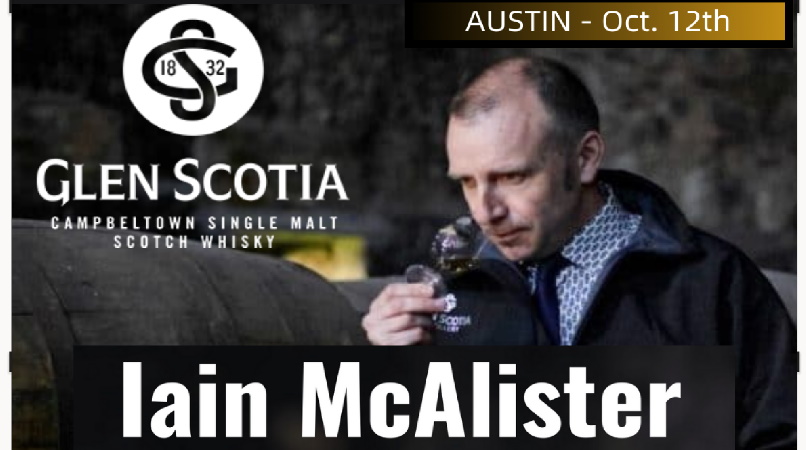 NOTE: THE EVENT PURCHASE WILL BE AT THE DRAMMERS SITE. YOU SHOULD ALREADY HAVE A TICKET BEFORE YOU PURCHASE THE ADD ON GLEN SCOTIA 25YR DRAM.
THIS PURCHASE IS FOR A HALF OZ POUR OF GLEN SCOTIA 25YR (NORMALLY $600 PER BOTTLE)
—-$5—-
We are so excited for this event, and we want to give you some context one how rare it is — this will be Iain McAlister's first trip to the United States in over a decade. He will only be in Austin for one night, and this event is it, one of only 5 stops he's making across the United States on this trip. Glen Scotia of course needs little introduction — founded in 1832, it is located in the fabled Campbeltown region of Scotland alongside Springbank.
Historically, this was the biggest of the 5 regions of Scotch whisky making — with over 30 distilleries in the lead up to the 1920s, it was seen by many as the "whisky capital of the world", until it crashed in the turbulence of the 1920s, such that Glen Scotia and Springbank were the only two to survive. Glen Scotia naturally went through a series of ownership changes through the centuries, and it's not an understatement to say that it reached a real turning point with the hiring of Iain McAlister in 2008. Iain was born and bred in Campbeltown, and turned to a career in whisky after earlier working as an engineer for Scottish Water.
In his role as Distillery Manager, Iain oversees all aspects of the actual distillation — and just about everything else at Glen Scotia (keep in mind what an intimate team they have running Glen Scotia, last we checked, they had a team of only 7 employees!). Under Iain's steady leadership, the reputation of the distillery has grown by leaps and bounds, culminating in 2021 when they did the unheard of — they won both World's Best Whisky (overall, all categories) at the San Francisco Spirits Competition AND were named Best Scottish Whisky Distillery at the Scottish Whisky Awards (the first time any distillery had won both in the same year). And with the release of innovative expressions like the Victoriana, their reputation only continues to grow. It doesn't hurt that Iain is one of the nicest and friendliest people we've ever met.
So this tasting will be a celebration of Glen Scotia, a big warm welcome to our friend Iain McAlister, and a chance to try some truly rare and special Glen Scotia bottlings — including a new, unreleased expression called The Mermaid!
Here's our anticipated lineup for the event, drumroll please….
Glen Scotia – Double Cask, matured in American oak and finished in Pedro Ximenez sherry casks, 46% abv
Glen Scotia – 15yo, 46% abv
Glen Scotia – Victoriana, finished in deep charred oak casks, 54.2% abv
Glen Scotia – Private Single Cask – 10yo Peated, Ex-Bourbon Cask #19/380-37, 1 of 242 bottles, 55.6% abv. Distilled 2010.
Glen Scotia – Private Single Cask – 7yo Unpeated, Ex-Bourbon Cask #740, 1 of 215 bottles, 56.1% abv. Distilled 2012.
Glen Scotia – Private Single Cask – 6yo Unpeated, 1st Fill Oloroso Sherry Hogshead, Cask #21/769-4, 1 of 230 bottles, distilled 2016, bottled 2023. Cask strength 56.5% abv.
NEW & UNRELEASED – Glen Scotia – Icons of Campbeltown – Release No. 1 of 3, The Mermaid, Limited edition, Unpeated, finished for 8 months in a Palo Cortado Cask, 54.1% abv. This is a real treat — our understanding is that this bottle won't be released in the United States until approximately January!
GLEN SCOTIA 25YR (PURCHASE 1/2 OZ BONUS POUR BELOW)
How about that for a lineup! Fair warning — some of this will be coming in suitcases, etc., so while we think it's unlikely, there's always a chance a bottle won't make it and we'll have to make an adjustment to the lineup — though in the rare case that does happen, usually it ends up being something even better, ha. We'll also order in light food (likely pizza) which will be included in the event. A big thank you to Juan and Denise Garcia for hosting us, they're located about 10 minutes West of downtown, and we'll circulate the address to the folks who sign up.
A huge thank you to Iain, Forbes and everyone at Loch Lomond and Sean and everyone at Blue Ridge who together made this incredible event possible. We hope you can join us! Please let us know if you have any questions.
Cheers!
Drammers Club Austin & Austin Scotch Club